Why You Need Energy Gels!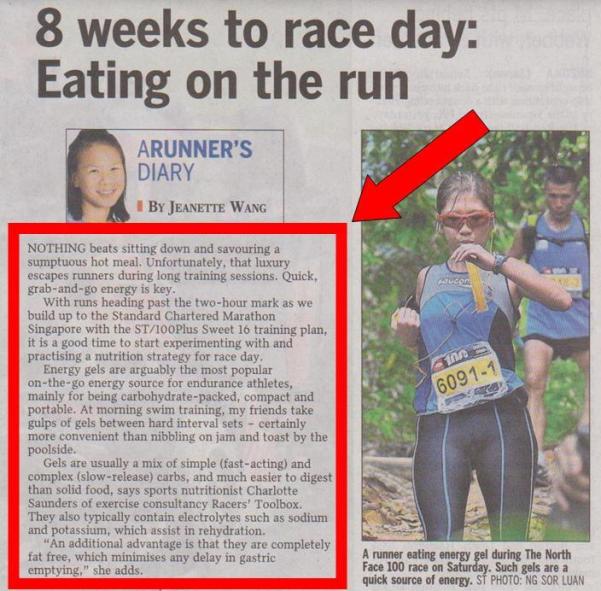 Published in The Straits Times dated 11 October 2010



Marathon Pre-Race Rituals


How To Consume Energy Gels

Why You Need Energy Gels


Choosing Energy Gels

CEP Compression Wear




Under Armour Compression Wear




Under Armour & Olympics Multi Gold Medal Winner Michael Phelps




CW-X Compression Wear




SKINS Compression Wear

Tutorial detailing functional aspects and technology of SKINS Compression Wear.




PowerBar C2MAX Innovation In Sports Nutrition

PowerBar sports nutrition products feature the muscle-fueling innovation C2MAX, a powerful, dual-source energy blend featuring a 2:1 mixture of glucose to fructose.

C2MAX can lead to measurable performance benefits. Groundbreaking studies have shown that this exclusive carbohydrate combination delivers up to 50% more energy to working muscles than glucose alone. Cycling time trial performance improved 8% over glucose alone! More energy to muscles and improved endurance performance — that's the C2MAX difference.




Leadville 100 Endurance Race

Leadville you gotta love a race that starts and ends with a shotgun blast and has amateurs line up next to pros. Oh, and it's pretty much all above 10,000 feet in the Colorado high country. In case you're having trouble motivating for that next workout, here's the trailer for the Race Across the Sky movie – if only they had shot this the year before when Lance Armstrong hit the wall at mile 90 and Dave Wiens won for the 6th straight time…